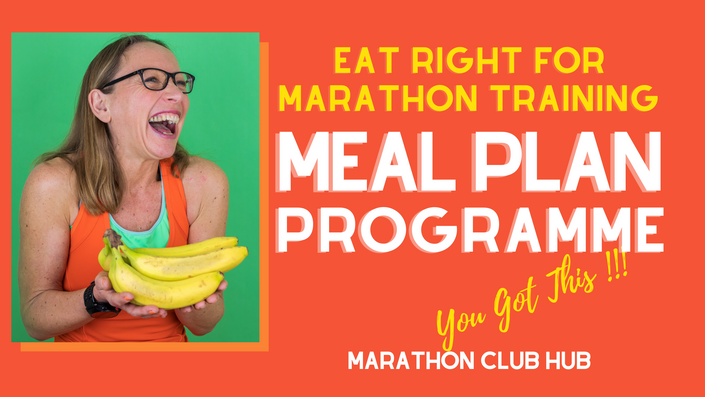 Marathon Training Meal Plan Programme
Are you running your dream marathon race this year?
Are you worried because your diet isn't great? You need to eat better for your training, but you're confused about what to eat, how much and when?
Are you confused about 'carb-loading'? Surely it's just an excuse to pig out and eat more!

Have you heard horror stories from runners who've put on loads of weight or run out of energy on long runs? And you DON'T want that happening to you!
You want a meal plan that tells you what to eat, when (and why!) and works along-side your marathon training
So you've got enough energy to run
You're able to recover quickly after your runs
And you're not eating too much that you
start to put on weight!
In your Marathon Training Meal Plan Programme you'll get four 7-Day Meal Plans to give you ideas and help you plan meals and snacks for your training.
To avoid piling on the pounds you'll get advice on the best diet and nutrition to support your training.
You'll learn about how, what and when to eat, without dieting or restricting your food, to support your training and make sure you can recover from your runs for results.
4 Essential Meal Plans for you: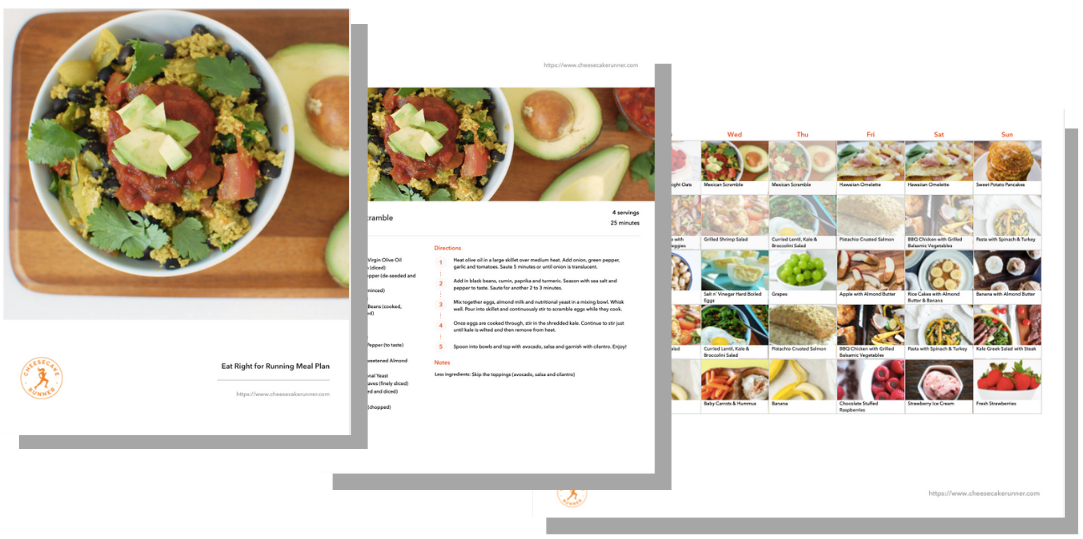 Use your Eat Right For Running 7-Day Meal Plan to reset your diet for balanced healthy eating for your running.
This meal plan has been developed with the assumption that you're running Tuesday, Thursday and Sunday (long run). As such you'll be eating a little more and a little more carbohydrate on those days. If you run and train on different days, just switch the days around for modify the plan for you.
Sunday being your long-run day you'll have a carb-focused dish for your Saturday dinner as a 'mini carb-load' to fill your bodies carbohydrate stores ahead of your long run. If you're running your long run on another day, swap this meal around.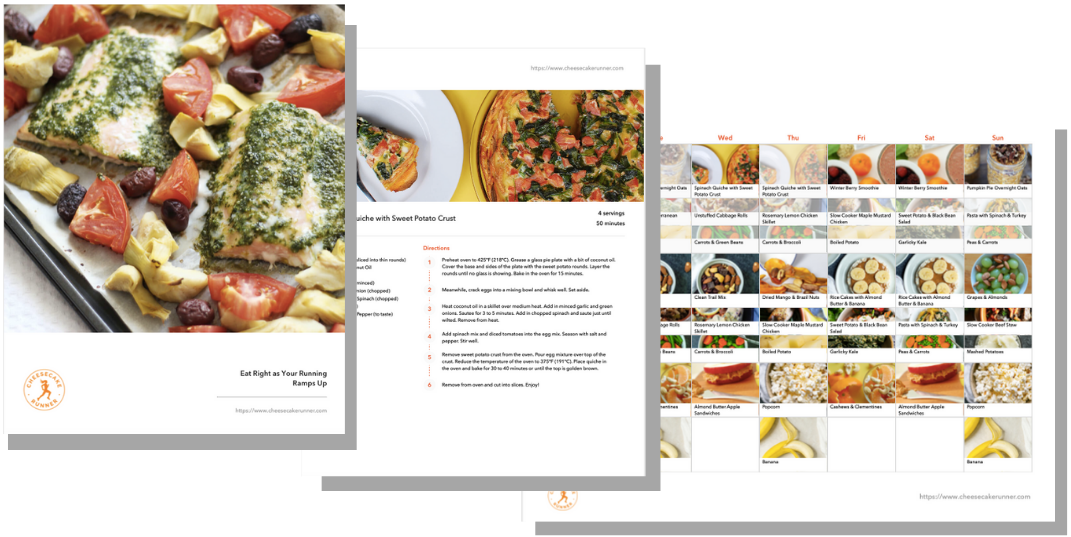 As your running ramps up through your training, so does your energy and nutrition needs.
Use your Eat Right As Your Running Ramps Up 7-Day Meal Plan to help you eat right to give you the energy you need for your training as your running ramps up through the mid part of your marathon training plan, so you avoid 'runger', without risking putting on weight.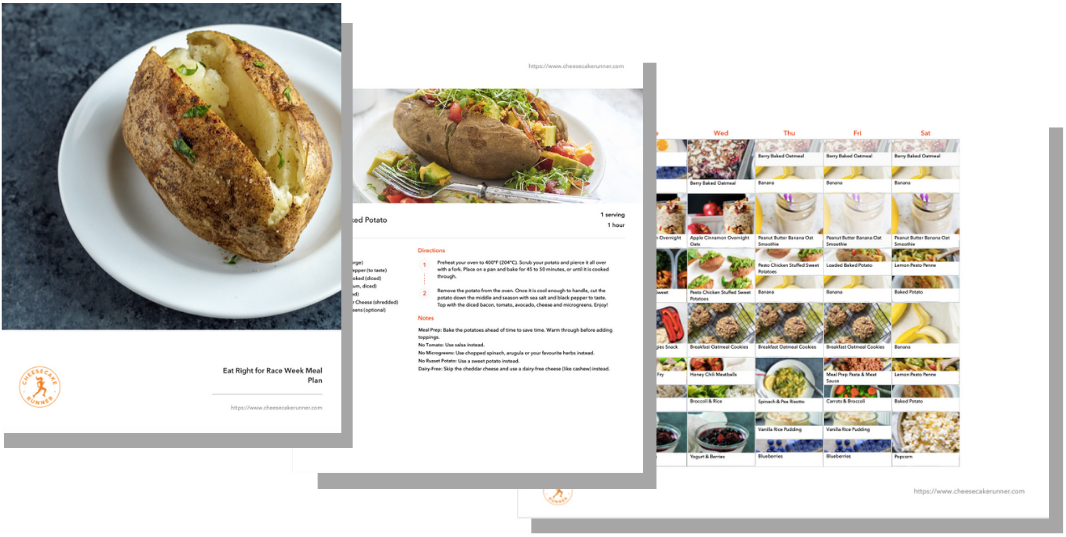 In the week leading up to your race you need to be switching your diet towards eating more carbohydrates, especially in the final 3 days before your race.
Your Eat Right for Race-Week Meal Plan gives you suggestions for meals and snacks for that week.
The day before your race I recommend eating a series of 'mini-meals' based around carbohydrates, rather than loading your plate high (you might not be able to face food!).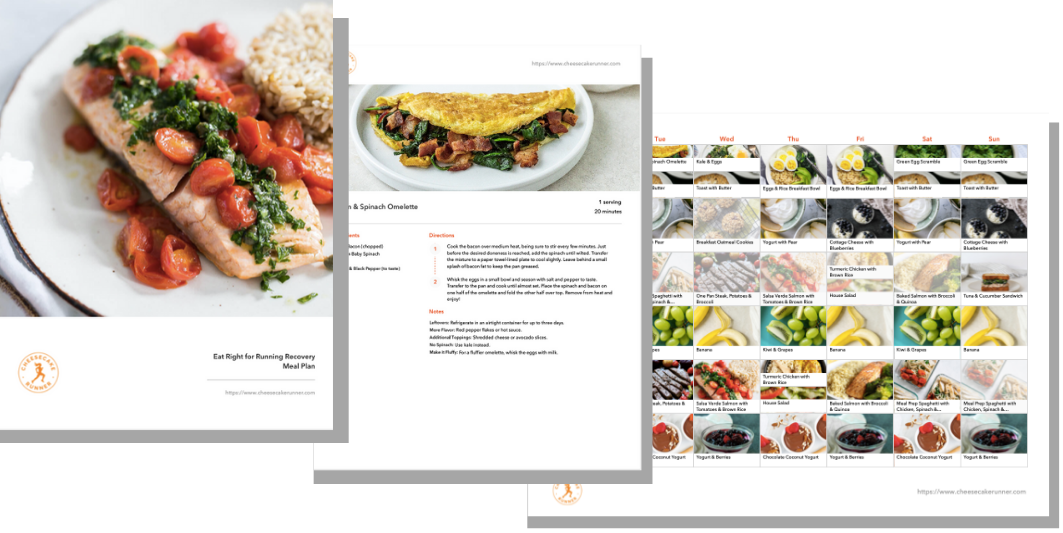 After you've ran your race what you eat is critical to help you recover and your body repair from the running you've done.
You'll need to be eating plenty of carbohydrates to replenish those you've burnt running your race. Now is not the time to go 'low carb', it'll increase your recovery time. In this meal plan I've included plenty of meals and snacks to give you the carbohydrate boost you need.
When you run you put stress on your muscles, which after running a marathon or other endurance run, might be pretty tired and sore. You'll also have 'destroyed' red blood cells, losing iron, which could have left you feeling extra tired and drained. It's important to eat plenty of protein and iron-rich foods to aid recovery. This meal-plan includes plenty of protein from to give you the nutrients you need to help your body recover fast.
The meal plan is also jam-packed with fruit and veg to give you essential micro-nutrients to help your body fight inflammation, as well as fibre to get your guts moving after marathon-day when you might have relied on gels and easy to eat carbs to get you around your run or race.
Use your Eat Right for Recovery Meal Plan to help you eat right to recover from your race or endurance run.
Plus you'll get advice on how to tune up your diet for your training
🥦 5 Food Fundamentals for Marathon Training Success
🍝 How much should I eat through training?
🥩 Eating right through marathon taper
🥖 Eat right carb-loading for race-day
🍏 Eat right through marathon week
What's Included
Your Eat Right for Running Meal Plan Programme
Available in days
days after you enrol
Meal Plans
Available in days
days after you enrol