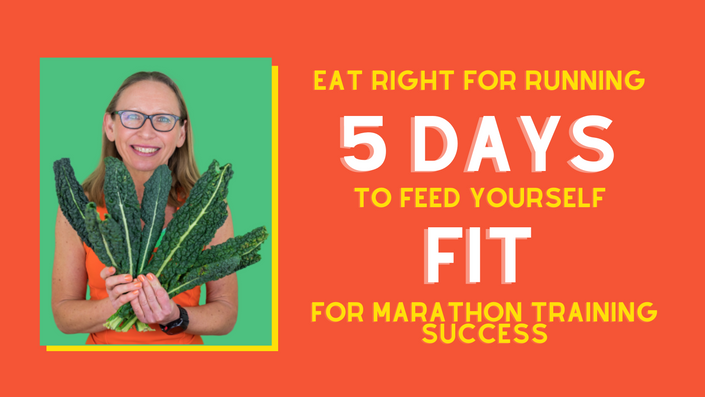 Your running results are directly linked to the quality of your diet and what you eat every day
Making simple, but critical, changes to your diet to align it with your training is the most effective way to eat right to run and train for your marathon
Learn how to ...
🏆 Eat right to give you energy and to recover from your running

🏆 Manage snacking and comfort-eating so you can finally take control of your weight

🏆 Meal plan to ensure you're all set up for eating right for your marathon training!
5 Days to Feed Yourself Fit Includes 5 Days of Eat Right to Run Advice
🌟 5 Modules of Eat Right for Running Advice, to help you tune up your diet and align it with your marathon training
Module 1: Healthy Eating for Exercise
I'll introduce you to the 5 Food Fundamentals for Running Success and help you incorporate these foods into your diet for maximum running success
Module 2: Managing Snacking, Comfort Eating and Cravings
We'll explore your snacking and comfort eating habits and triggers and I'll give you tips to manage your environment, so your family, friends and work colleagues don't sabotage your success
Module 3: Energy for Exercise
You'll learn how to fuel your running and what macronutrients are critical to give us energy to run
Plus what, when and how much to eat for training without putting on weight and how to avoid horrendous 'runger' after runs
Module 4: Eat Right to Recover from Your Runs
To improve your running you need to understand the importance of recovery and learn how your diet can speed it up.
Module 2: Menu Planning for Success
You'll learn how to plan meals and snacks around your running and find out why skipping meals won't work to give you energy for running or for weight-loss results
Sound good?

But why do so many runners insist on trying to 'figure it all out' themselves? Why are so many 'hell-bent' on going at it all alone?
That's what I did when I realised that my diet, the food I was eating day after day, was holding back my running performance and causing me to put on weight every time I ramped up my running to train for a race.
I quit my job and retrained as a nutrition coach, applied the principles to my diet and not only did my running sky-rocket, I didn't gain rather lost those 'few pesky pounds' that had been stubborn and refusing to shift.
You don't have to do anything as drastic as quit YOUR job and start a new career … I can help!
How much time have you wasted by trying to 'do it all yourself'?
Where would your running (and weight) be by now if you'd had the right coaching and support?
How much faster could your running performance improve and weight drop off if you DID have someone who gave it to you straight?
Someone who could point out what's been going wrong, what habits and 'old outdated norms' need to change, and helped you create a new relationship with food and stay accountable to that change.
What if you could start to make those changes today, START RIGHT NOW!?!
Telling you what to do … what not to do. How fast would you start to see results?
Now imagine you spent the next 6 months on your own again, still trying to figure it all out yourself … not asking for help.
Do you really think you'd get the same results?
Introducing: Eat Right to Run VIP … An elite coaching experience
During our 6 weeks together with Eat Right to Run VIP coaching:
You'll get 8 Eat Right to Run 1:1 coaching calls with me for advice on WHAT you need to eat, when, how-much and why, to give you more energy to run, help you recover quickly from your runs without 'runger' or putting on weight.
You'll get the coaching you need in HOW to apply the advice, make changes to the meals and snacks you eat, and maybe when you eat, to support your running and weight-loss goals.
And you'll get support in MAKING those changes. Change is hard. And many of the beliefs, norms and habits we have around food are deeply ingrained in our psyche. Together we'll map-out a plan to move forward, baby-steps, and I will coach and support you every step of the way.
Eat Right to Run VIP is an elite coaching experience like no other, and it gets results
Are you ready for change?
The truth is nothing changes if nothing changes
If you want to smash your MARATHON running goal
then you need to do something DIFFERENT to what you've been doing
So you're probably thinking …

I can do this on my own
Having the motivation and desire to train hard and to research how to eat right for running and lose weight, and holding yourself accountable to stick with it week in and week out is awesome. It really shows that you're committed to change and transforming your running.
How about I help you with even more motivation!
I can help you save time by giving you the answers, helping you to eat the right foods, at the right time and in the right amounts to help you tune up your training and hold you accountable to stay on track to get real running results
I can help you to focus to get real running results
And you're probably thinking …
I don't have time for faffing around with my food
All runners are busy. When we're running and training for races with a busy family alongside a full time job, time is precious.
But do you think that all runners who have ever wanted to train smart waited until their lives and diaries were freed up before they got started?
You're super busy which is why I'm giving you 3 sample Meal Plans to help you get started
Or you might say ...
This isn't for me. I've always winged it. I've never followed a training plan or meal planned before.
The fact is you're exactly the type of runner I created this programme for!
Because you've never thought about your diet and food as a way to improve your running results or created a meal-plan for your training then you've probably never realised the training benefits to be made from adopting a better diet, eating the right foods and aligning your diet with your training to get results.
I'm going to give you the answers. What to eat, when to eat and why and help you apply what you learn to the meals you eat every day.
If you've never looked at improving your diet as a way to improve your running before you'll most probably quickly see some amazing results with your running!
Tuning up your diet and meal planning to improve your running isn't just for speedy experienced runners either!
In fact, if you're new to running or not ran much before you'll have the best chance of getting great results!
So if adopting a sensible balanced healthy diet is so great for running, why isn't EVERYONE doing it?
Funny that! But the reason is because …
Most people won't listen to advice, don't have the motivation to change and the will power to see it through
Once you start using the advice I coach in 5 Days to Feed Yourself Fit it'll completely transform your running (and life!)
You'll have bags more energy to run, start to lose your comfort eating weight, feel less frazzled, and recover quicker from your runs
So when I set up my nutrition for runners business I knew I wanted to help other runners just like me, eat well and train smart to help them realise their running and race day dreams.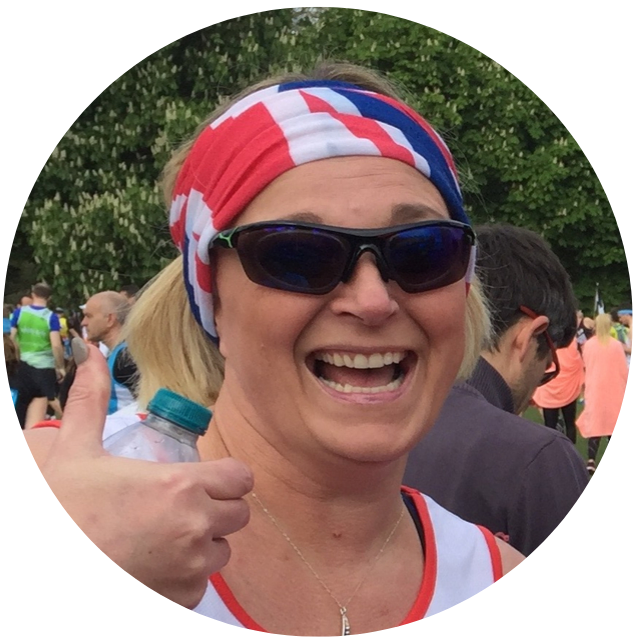 And now I've been able to help Lisa, who was threatening to pull out of London a few years back as she was struggling with her runs. I turned around her eating, to give her more energy for her runs, so she started running strong and even lost weight, even though I was getting her to eat more food.
"I want to thank you for the advice and support you've given me around nutrition for my marathon training. Over the past 2 weeks I've lost 3lb in weight (so that's motivating) but more importantly I'm not feeling any where near as hungry. Loving eating carbs again, after years of thinking they were the enemy. Your advice has made me more aware of what I'm eating and why and also demonstrated to me that I need to plan what I'm eating better!"
Lisa, London Marathon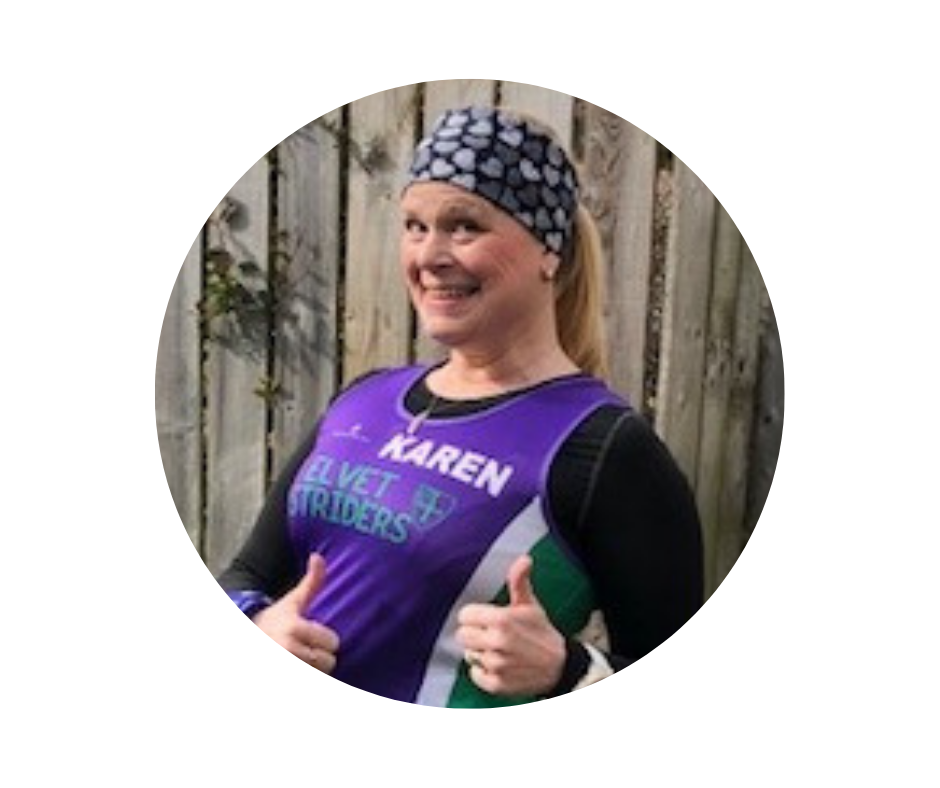 Or Karen who had already run a few marathons, but wasn't great at fuelling. The thought of food whilst running made her feel sick. So on long runs her pace was getting slower, she never had enough energy in her legs and whilst many people she knew had lost weight running, all she'd done was put it on.
"When I started working with Helen I was anti-carb and had got caught up thinking I needed more protein in my diet. Helen explained this wasn't going to give me energy for my running. I started to keep a food diary to help me monitor my macros and keep on track.
I won't lie it was hard. But understanding how the 'nutrient free calories' were hindering my progress really helped me make better decisions. I was eating good food, and more of it, meaning I wasn't looking for a sugar rush for energy all the time.
When I ran my next marathon I took 54 min off my time. Being injury free, well hydrated & fuelled I could run up the hills and I managed to keep going until the end. I also lost about 4lb and I was eating more food than ever!
Karen, Kilder Marathon
Or Helen, who was struggling with energy, particularly on long runs and also wanted to lose half a stone that had slipped on over winter.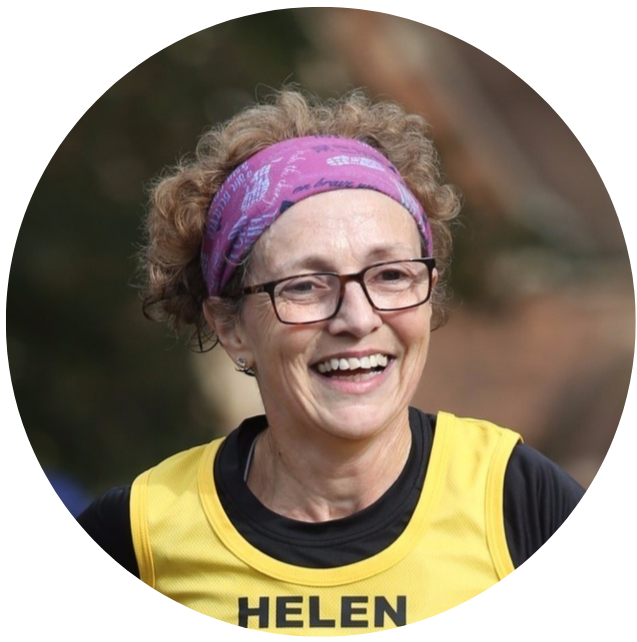 "Working with Helen made me realise how reliant on I was on chocolate, biscuits and cake treats, that I was eating too much saturated fat and how little protein there was in my diet. When I was training I wasn't eating enough of the right fuel to get me through long runs, or eating the right foods to help me recover.
I'm really pleased that working with Helen I'm running stronger and lost the half stone I wanted and more!"
Helen, Milton Keynes Marathon
Or Erica who was struggling emotionally during our last lockdown, leading her to comfort eat and put on weight.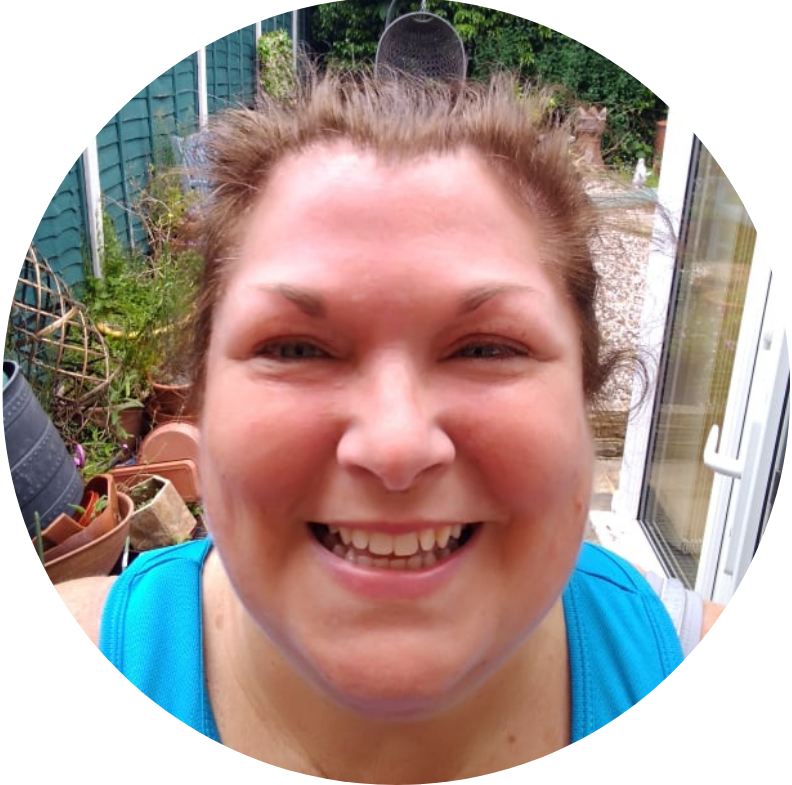 "My diet and weight had been ok prior to lockdown as I was training for London in April. But then lockdown happened and my running, diet and health went spiralling out of control.
I out on weight. I was struggling both physically and mentally, work was hard and switching to working from home I found a challenge. My diet was rubbish and I lost all interest in running so started to put on tons of weight.
Helen helped me to find myself again. I had gotten lost through lockdown and didn't know who I was. Helen helped me find a purpose, and have pride and confidence in myself.
To have been able to finish the Virtual London Marathon was the greatest thing I have ever done. Before our coaching there would have been no way I could have achieved even getting to the start line!
I now feel healthier, fitter and stronger (physically and mentally) since we have worked together and I'm now ready to get going again with losing more weight to get fitter and stronger for the races I've got planned next year."
Erica, Virtual London Marathon 2020 runner
So the problem is …
You want to take control of your eating, so you can ramp up your running and eat better, without feeling constantly hungry or giving up your favourite foods, to finally feel confident, feel like a 'real runner', at the start-line of your marathon later this year.

You could join a 'diet club in your local village hall', for a weigh-in each week, and spend between £10-£20 per week

Or … You could get yourself a personal trainer or running coach to improve your fitness and running and spend between £50 and £75 per session


Or … You could get a plan, plus information and tips from the internet and Facebook for free

But …
Attending your village hall diet club you might make a lot of friends and lose a bit of weight, but these diet clubs won't help you eat right for your running and you'll most likely have no energy to run when your training plan ramps up

A personal trainer or running coach will help with your strength, fitness and running, but most won't give specific diet and nutrition advice that will help you with your running and lose the weight you want

You can find out almost anything on the internet. But how do you know that the advice given is right and right for you? You'll have to spend hours reading articles and sifting through information to find what you need. Time you could spend more productively running!


With 5 Days to Feed Yourself Fit you do not have to part with those eye watering sums of money and you also get my set-in-stone guarantee that you'll improve your running plus potentially lose a few pounds, so you can finally feel confident, feel like a 'real runner', at the start-line of your next race.

You can join us for 5 Days to Feed Yourself Fit for just £47!
I don't want unhappy money, or unhappy runners. If this isn't the best nutrition programme for runners you've ever taken, if you're not satisfied with the quality of the content or for any other reason whatsoever, simply request a full, immediate refund!
No Questions Asked!
And that's not all. I've included a scrumptious bonuse that'll help you
Eat Right and Run
60 Quick and Easy Whole Food Recipes
It can be difficult to think about what to eat each day, especially if you've got a fussy family to feed too. This 60 Quick and Easy Whole Food Recipe Guide will help you plan out healthy, delicious meals that are perfect for runners, even if you're short on time.
Meet Your Coach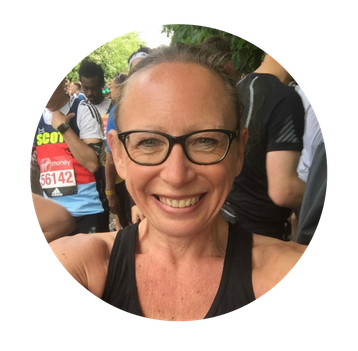 My name is Helen and I am The Cheesecake Runner
In case you've never heard of me **horrified gasp**, here's why I'm uniquely and firmly qualified to help you eat right and run.
I'm a nutrition coach and work with runners. I'm a keen baker and cook, and I've been running on and off for about 20 years.
I took a break from being fit and healthy for about 10 years, but kicked my butt back in the game in 2012 and I've not looked back. Since then I've run countless halves and last year I ran my 16th marathon and (fingers crossed) I'm going to be running another 5 this year!
After training in sports nutrition and applying the advice to tune up my diet for my training, now aged 55 I'm leaner, fitter and faster than ever, and run with a Marathon Good For Age entry time.
I created this short 5 Days to Feed Yourself Fit mini coaching series and my Eat Right to Run programmes, because I've seen too many runners struggling with their training, diet, nutrition and motivation and not finding a solution, and also because I wanted people to know that there is a better way to eat well to train, to tone up AND lose weight!
So in 5 Days to Feed Yourself Fit I'm bringing to you my top game, a lifetime of lessons learned as a coach, marathon runner and 'I can't resist cake' foodie and cook!

🏆🎖🏃‍♀️ I want to see you succeed and realise your long held running dreams 🏃‍♀️🎖🏆
🏆🎖🏃‍♀️ Join NOW to get started on your journey to the finish-line! 🏃‍♀️🎖🏆
It's your time to succeed!
If you want to TAKE CONTROL, to RAMP UP YOUR RUNNING, EAT RIGHT FOR RESULTS
and ENJOY THE JOURNEY then
5 Days to Feed Yourself Fit is the eat right for runners 'get started' programme for you!
Coaching starts 6th June ... don't miss out!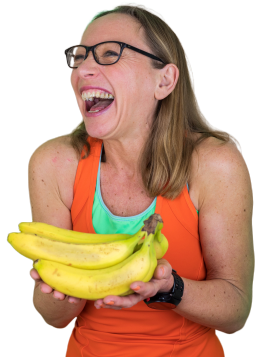 You got this!
Helen, The Cheesecake Runner